Industry Folks - Nehemias Moreno, Public Relations/Marketing Director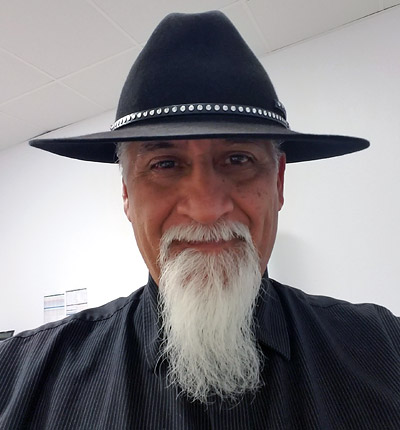 SAN ANTONIO - Born in Lamesa, a small town in the Panhandle of Texas, Moreno spent the first eight years of his life about 9 miles southwest of Lamesa in the midst of the cotton fields. At the age of six, he joined his parents, older sisters and brother to work in the cotton fields in Dawson County.
For the next 10 years, he would work every summer to earn money for school supplies and clothes. His father drove a tractor while the rest of his family worked in what they called "la limpia," which means "to clean" and that is exactly what they did. They cleaned the fields of weeds.
Moreno's parents insisted he and his siblings finish high school so they would not work in the fields for the rest of their lives as they had. Moreno worked in various construction jobs after graduating high school in 1981 from concrete work to framing and decking, to drywall, mostly as a helper. His two older sisters encouraged Moreno to go to college and in 1983, he enrolled in San Antonio College to earn his core credits and study volleyball, but after a year and a half, quit to work in a warehouse, making recreational products.
Moreno decided he needed to continue his education after he and his wife married in 1989. He enrolled at the National Education Center in San Antonio and earned his first Associates degree in just 18 months. After enrolling in Wayland Baptist University to acquire a bachelor's degree, dropping out and working for several years in various jobs, he decided to apply at a charter school as a substitute teacher and was hired on the spot. After a couple of months, he was hired as a permanent substitute to teach recordkeeping and career prep. The following year he was asked to come back as a fulltime career and technology instructor and taught at the charter school for 12 years, and two years in the capacity of Outreach Coordinator and Recruiter.
Although Moreno had been out of school for 11 years, he enrolled at Palo Alto College and as a part-time student in 2003. It took him six years, but he acquired his second Associate degree, this time in Administrative Computer Technology. In 2013, at age 50, he enrolled at Texas State University and at the age of 54, he earned a Bachelor of Applied Arts & Sciences, through the department of Occupational Workforce and Leadership Studies. "Some people say that you are never too old, but I say, do it when you are young; it's easier. During my time as a high school teacher, while looking for jobs for my students, I begin to research the construction industry."
Moreno began working for Setien Group/Setien & Associates, a structural steel detailing and fabrication company in Schertz, Texas, after meeting owner, Domino Setien who allowed him to complete a capstone class for his degree. Upon completing the project, he was offered a job. His passion is still in helping make a connection between young people in schools and the construction industry. "I am very fortunate that the owner of Setien Group, Mr. Domingo Setien shares my vision and has given me the flexibility to go out and make those connections."
- cmw
SAN ANTONIO Construction News - the industry's newspaper in Texas