40 years of not working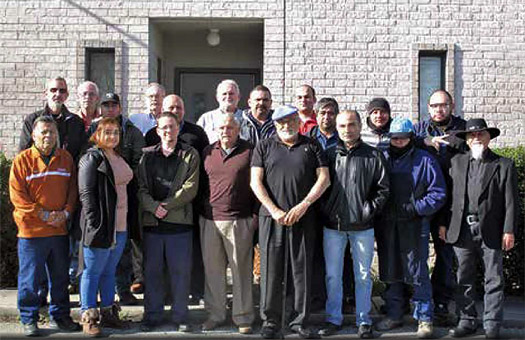 AUSTIN - A young man of 14 getting ready to start high school usually only has one or two things on his mind. Likewise, a father with a daughter preparing to start high school has only one thing dominating his thoughts as well.
When Domingo Setien was 14 and getting ready to start his freshmen year at Central Catholic High School, he naturally was only interested in seeing his girlfriend. Every chance he could, he would go and visit the young lady. Her father, an engineer, had converted his garage into a work studio where he and his buddies would work on designs and brainstorm ideas.
"All these men would accumulate in the afternoon and evenings," recalls Setien. "I'm looking at these guys and they were jolly and laughing. They'd come in smoking their cigarettes and just going to town working at their tables. I was intrigued by their attitudes and how they were bouncing ideas off each other."
Noticing the frequent visits by Setien and being a protective father, he decided he had to disrupt the visits, as the two were too young to be seeing each other so often. He approached Setien during one of his visits and gruffly asked him if he wanted to learn the stuff they were working on. Suddenly, money seemed to be more important. As he learned, he earned – $.75 an hour to be exact, scrubbing drawings.
As he went through high school, he was doing more and more scrubs at night. Then, her father brought him on board at the company he was working for and introduced him to estimating.
"I'm a person that went to school and failed math every year," he says. "I just couldn't put it together the way teachers were presenting it to me. They were using big words that would scare anybody, like 'hypothesis of a triangle,' 'trigonometry,' 'A square plus B square.' It didn't make sense."
He was introduced to a job that involved 'hoppers' and 'baffles' for 'precipitators,' a fancy word for big ducts in a triangular formation. Suddenly, it all started making sense and became his passion and hobby. As an added bonus, he developed a "big brother, little brother friendship" with the girl's father who became his best friend and mentor.
Setien earned his degree and eventually worked for a steel contractor who saw something in him.
"He saw that I was a workaholic, but I'm not," he says. "It was my passion, my hobby. If you like what you're doing, it's not work. Once you find your passion, you never get up to go to work."
Setien would eventually find that he liked doing miscellaneous projects, which he learned after being asked to help on a project when a key player fell ill. This project allowed him to work and challenge himself into the wee hours.
"I knew that I could not work for a company," he says. "I would be restricted and I liked challenging myself."
He began working for himself and Setien & Associates was formed in 1978. Now 40 years later, Setien & Associates has grown from a one-man show to a production with locations in Houston, Rockport and Laredo.
"I never meant for it to be this big but here we are, having fun," he says. "In 40 years, I have never woken up to go to work. I just don't look at as work."
Setien & Associates isn't just about structural design and steel fabrication. They are about educating and encouraging the next generation to find their passion.
"College isn't for everyone. Mr. Nehemias Moreno, our public relations/marketing director and education consultant, has been researching jobs in the construction trades. He's been connecting with local high schools hoping to bridge the gap." Their goal is to educate the youth who know college is not for them and let them know there is another way.
- cmw
SAN ANTONIO Construction News - the industry's newspaper in Texas